Olympic Peninsula Winter Steelhead Fishing
& The Quinault Cabin
To SPEAK with someone to schedule a trip please call 509.962.5959. To schedule online, use the interface at the bottom of the page. 
Season; Jan 1- April 15
Public Water Day Trips$525 per boat with 2 anglers – $262.50 per person
Private Water Day Trips $575 per boat with 2 anglers – $287.50 per person
Overnight Olympic Peninsula Fishing Packages Available March 1 – April 15 $495 per person based on double occupancy – per day/night. All inclusive -Featuring our Quinault Lakeshore Cabin – This can be a combination of private water and/or public water.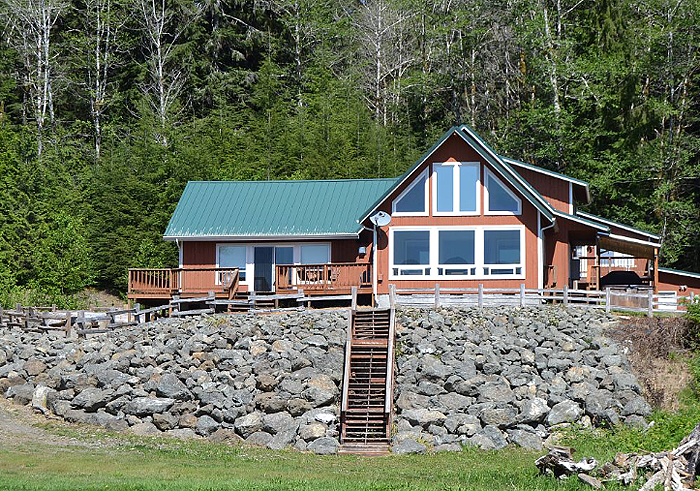 Each bedroom has it's own or, nearby designated bathroom.  The facitlity is on the lake, spacious and comprised of two spearate buildings.  There is also a jacuzzi on the deck.  we are 30 minutes from 4 rivers.
We always recommend two days fishing if at all possible. Conditions can change quickly.
PUBLIC WATER
These are remarkable fish and the Olympic Peninsula fishing is some of the last best for these incredible sea going winter runs. There are a myriad of rivers on the Olympic Peninsula – The Hoh, Upper Queets, Upper Quinault, Clearwater, Humptulips, Wynoochee etc… These watersheds all originate from the foothills, glaciers and peaks of the Olympic Mountain range. We are well versed in both single hand and double hand rod tactics. Let us know which technique you would like to focus on and we will design a trip for you! From our Qinault Cabin we are within 15 minutes to 1 hour of 6 major rivers. We always recommend two to three days fishing if at all possible. Conditions can change quickly.
PRIVATE WATER  – Upper Wynoochee
The Upper Wynoochee flows through private timber land and some of it is accessible for the general public. However, we have secured a lease on the initial 15 miles of the river . This particular river offers a substantial population of big hatchery brood stock and SOME wild fish. The best of the best on the 'Nooch' is January – February.