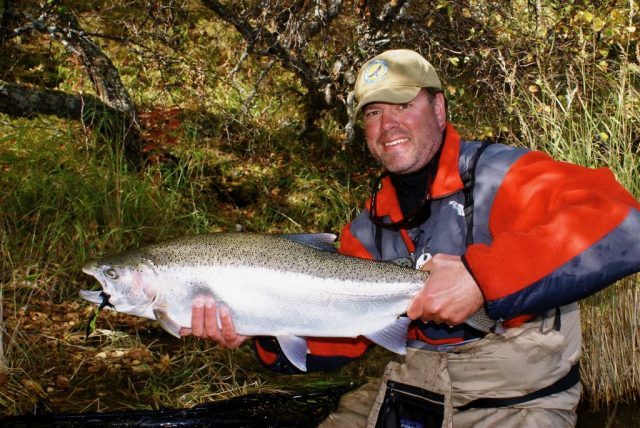 ALASKA'S KVICHAK RIVER &
SEASONS ON THE FLY LODGE
Seasons On The Fly Lodge! It's on the Kvichak River one of Alaska's premier destination trout and salmon rivers. It is our hope that your stay at the lodge is one that creates lifelong memories and one that creates a desire to come back and see us every year!
This program is $3200 plus tax and includes lodging,  your own boat,  flies and fishing equipment.  In addition, it includes your Hosts Jack Mitchell and Joe Donsky assuring your fishing adventure is a success. In addition to the below  procedures,  Jack and Joe will be driving around on the river and spending time with all of you to make sure rods are bent.
Each group of 2 people will have there own boat.   There will be a required  orientation and you will be directed to a "video portal" with a Welcome Video and some instruction on how to fish the river and how to fish certain runs or islands on the river.
There is also a handheld GPS (you'll need to sign a release for this) available for each boat that has over 30 spots marked that will hold fish so you can drive there and catch fish almost immediately upon arriving. It cuts way down on your time needed to learn how to or where to catch fish on the Kvichak River. Communications: You are traveling to a very remote wilderness area of Alaska so cellphone use at the lodge is only possible if you have a GCI (Alaskan) account, the national providers like AT&T and Verizon will not work in this area of Alaska. There is a phone available for emergencies. Limited internet is also available at the lodge.
Food Preparation: Everything you need to prepare meals will be at the lodge. ie: utensils, dishes etc. You just need to bring your food! There is a stove/oven and a grill for cooking and 2 refrigerators to keep things cold. If you have any special needs be sure to let us know.
______________
Salmon Harvest : There is a vacuum sealer at the lodge with a freezer. So you just need to bring your fish boxes or coolers to get your fish home. It is CATCH and RELEASE for all trout!
______________
Radios: Each boat is equipped with a radio that would allow you to contact the lodge should you have any issues while out on the river.
______________
26 Foot Jet Boat: There is also a 26 foot covered jet boat at the lodge. You will be picked up in town and brought to the lodge in it. This boat is also available for hire.
______________
3 Flyouts: Flyouts are available!
______________
Getting to the Lodge: You have many options to get to the lodge from Anchorage. These flight services provide service from Anchorage: Lake and Pen Air – 907-345-2228 (Ask them about the SOF Lodge Deal!) Dena'ina Air Taxi – 907-575 6225 Lake Clark Air – 907- 662 7661 From King Salmon: Grant Aviation – 888- 359 4726 Branch River Air – 907-246 3437 Tipping: Dave is there to help make your stay a successful one. He will be taking care of garbage and keeping the boats full of gas and operational. If you think Dave has done a good job for you tips would be appreciated. I sincerely hope that you enjoy your time at SOF LODGE and we hope to see you again next year and if we can do it better please don't hesitate to let us know!
______________
Itineraries
Sept 19 Fly Into Anchorage –  Spend the night
Sept 20 8AM Charter in to Igiugig Fishing by 1pm if you like
Sept 21 Day 3 Fish
Sept 22 Day 3 Fish
Sept 23 Day 4 Fish
Sept 24 Day 5 Fish
Sept 25 Day 6 Fish
Sept 26 Day 7 Fish until 1 if you like Charter out @ 5PM
9 Spots – 3 available
Sept 26 Day 1 Fly Into Anchorage –  Spend the night
Sept 27 Day 2 8AM Charter in Fishing by 1pm if you like
Sept 28 Day 3 Fish
Sept 29 Day 3 Fish
Sept 30 Day 4 Fish
Oct      1 Day 5 Fish
Oct      2 Day 6 Fish
Oct      3 Day 7 Fish until 1 if you like Charter out @ 5PM
9 Spots  5 available
______________
Guests are responsible for:
The flight to and from Anchorage
The Charter to and from Igiugig
Food and Alcohol
Gratuities
Attire
Licenses
Fishing Equipment
______________
What to bring
Clothing / layers
Waders/Rain Jacket (Alaska Standard)
Wading Boots (Felt Soles are Illegal in Alaska) No Studs or Cleats can be used in our boats.
Polarized Glasses
Sunscreen/bug spray/bug net if you prefer them
Warm Clothing – think layers – Warm Hat/Gloves – Camp Shoes – CameFishing Gear :
7-8 weight rods for trout  (floating lines & sinking tip)
Both single and double handed rods.
4 weight rods for grayling
______________
Flies for Trout
2 dozen flies per angler will be provided.
Assortment of beads in sizes and color
Any Egg Pattern
Flesh Patterns
Dali Llama
Sculpin Patterns
Lamprey Eel Patterns
Mice Patterns for trout
Small dries for grayling
Stone Fly Nymphs
Prince Nymphs
______________
Food:
We now have a service that will do your grocery shopping for you! It's called S&S Expediting and they can be reached at 907-891-6251. Ask for Sue! She will do all of your shopping for you for 20% of the cost of the groceries plus $20. She will deliver it to your air carrier who will fly it to the lodge for $1.00/pound and it will be waiting for you when you arrive.