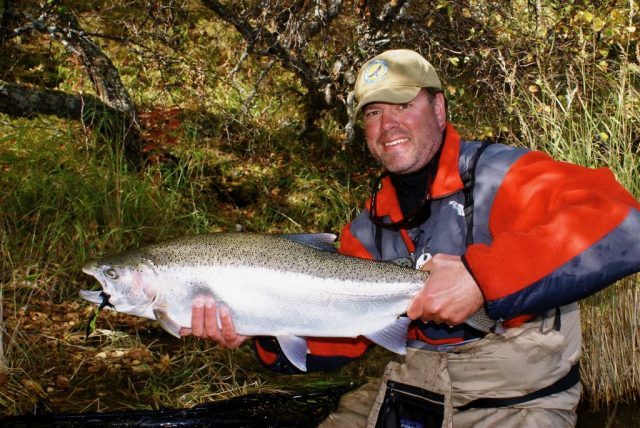 ALASKA'S KVICHAK RIVER
To view availability or schedule a package online for 2023 click HERE
To speak with someone about this amazing program
—>Call/Text Jack 509-859-2280  
Each program has 8 spots
_________________________________________
The Kvichak River, one of Alaska's premier destination trout and salmon rivers.  Amazing fishing with aggressive and the hardest fighting  pound for pound freshwater fish on the North American continent.
We fish the river with both single hand and double hand rods.  Your trip can include Trout, Grayling and Pike fishing:))
WHERE IS THE KVICHAK?  The Kvichak is the outlet river of lake Iliamna in western Alaska.  Lake Iliamna is Alaska's largest lake and the Kvichak drains into Bristol Bay. The lodge is on Blueberry Island, 2 miles downstream from the lake.
WHEN IS THIS TRIP OFFERED and WHY? We offer this trip Sept 18 – Oct 18 By this time the pressure is LIGHT and although multiple tactics will work, the swing fishing is the focus!
HOW TO GET THERE?  Fly Into Anchorage and from Anchorage we will arrange a charter flight
THE LODGE is 15 ft, off of the river and it provides us with comfortable beds, hot showers, a great dining room & deck literally riverside.  The facility is comfortable & the food is thumbs up! We also offer a limited open bar!
PRICING
All inclusive  $5400 – Program will include
-Lodging
-Food
-5 days of guided fishing
-Flies and terminal tackle
-Rods and reels if needed
-Limited open bar.
Pricing does not include:
-Flight to Anchorage Alaska
-Flight to Igiugig from Anchorage
-Fishing License
-Wading Attire
-Gratuities
Day 1
Charter flight to Igiugig from Anchorage @ 12 Noon
Settle in to rooms
Food, Fun, Lodging
Day 2
Fish, Food, Fun, Lodging
Day 3
Fish, Food, Fun, Lodging
Day 4
Fish, Food, Fun, Lodging
Day 5
Fish, Food, Fun, Lodging
Day 6
Fish, Food, Fun, lodging
Day 7
Fly Out at 1:30 PM
Connect to another flight or spend the night in Anchorage and connect the following day.
______________________
Communications: You are traveling to a very remote wilderness area of Alaska so cellphone use at the lodge is  possible if you have a GCI (Alaskan) account, or via wifi calling with national providers like AT&T and Verizon.  There is also a phone available for emergencies. We will have unlimited internet this year….Yay!
What to bring – All fishing rods, reels, flies and terminal tackle can be provided if needed at not extra charge.
Clothing / layers
Waders/Rain Jacket (Alaska Standard)
Wading Boots (Felt Soles are Illegal in Alaska) No Studs or Cleats can be used in our boats.
Polarized Glasses
Sunscreen/bug spray/Headnet
Warm Clothing – think layers – Warm Hat/Gloves – Camp Shoes –
Fishing Gear :
Single Hand Rods
7-8 weight rods for trout and pike  (floating lines & sinking tip)
4 – 5 weight rods for grayling
7-8 weight Switch or Spey Rods with Skagit heads
Sink tips – 5 and 5 T8-14      10 foot T8-14
______________
Flies for Trout –
Assortment of beads in sizes and color
Any Egg Pattern
Flesh Patterns
Dali Llama
Sculpin Patterns
Lamprey Eel Patterns
Mice Patterns for trout
Small dries for grayling