Fabulous fishing lately on both the nymph and swing. The dry line game for us has been a little tough but the medium to heavier tip game has been consistent.
Best swing bugs lately for us include….
The OP Muddler in black and blue or purple, Hobo Spey in black with a green butt, Fish Taco in red and black.
Best nymph patterns include….
Pat's Stone, Rusty's Stone and the Bead.
The entire river is holding fish. There are some partial blockages in the canyon between Stinson and the Slide….easily portaged at this time
Clarity has been ranging between 1.5 to 3 feet of visibility depending on time and zone.
Bruce and hen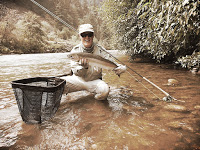 Gene and a big smile
Cowboys and Crew