Based on all predictions, the next weeks weather should be spot on for the rivers and fishing. It is nice to see a bit of a reprieve, as the last month's amount precipitation has been astounding. Although no complaints, especially in the wake of last year's …. 'lack of'.
Reasonable fishing this past few weeks when were able to find the window of opportunity
This weeks steelhead fishing honorable mentions…..
Nextcast Zone – F1; This 25 foot head casts like a champ and slows your swing down to the walking speed that is needed. 10 feet of intermediate is built into the line; top that with a 10 foot tip of choice, based on depth and flow and you have a line that slows way down – We call that thumbs up!

1/2 of an inch of rain in 20 minutes.
The Beaverslide Boat Launch
Amazon.com Film Shoot – Chasing steelhead to feature a Nikon camera on Amazon – Gotta love it.
Kristian's Run….. 3 hook ups in two days – 10 feet of T-14 and a Black Moal Leech – the exact same spot – Gotta love it.
Sight fishing Steelhead on two different occasions
Just Fishing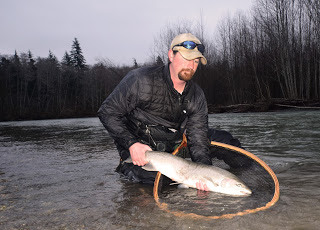 Sight fished to this one!
Kristian in Kristian's Run