YAKIMA
Fishing has been GREAT .  End of Story.  Nymphing has been goooood with some reasonable isolated dry fly pockets and streamer action.
Bugs
Blue Wings #18-20
Mohagany Duns #16-18
Fall Cahill # 16
October Caddis #10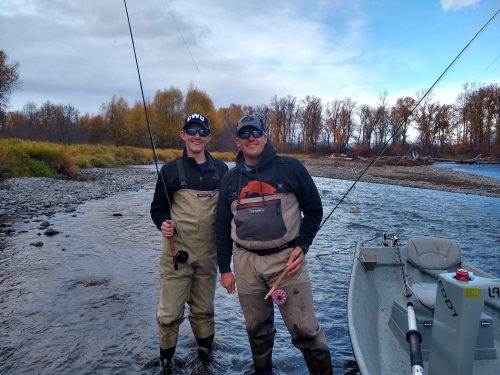 KLICKITAT
Working for all the fish but there certainly are some dandies.  Both the swing and nymph have produced. In addition we have actually hooked a couple on retrieved flies.
The go to fly sub surface has been the  Blue Fox
Line types have varied depending on depth and flow. Everything from Standard Skagit and  T-8 to a FIST line with T-11…..  Some dry line fishing has been part of the picture as well.  Favorite fly besides a Steelhead Caddis on the dry line has been The Green Butt Marabou