THE UPPER COLUMBIA catching has kicked into gear. We had a slow start but the fishing has certainly picked up recently.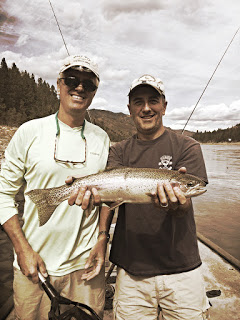 Big Upper Columbia resident bow for the Davidson party
Predominant hatches are;
1) The Big Yellow May (Epeorus) and
2) Fall Caddis (October Caddis),
Nymphing, dry flies and swing tactics have all proven effective.
Best dry fly lately has been the old classic – #10 Orange Stimulator.
Best nymph lately has been a Hares Ear
Best Swing bug lately has been the 'Professors October Softy'
Fall Caddis Soft Hackle by The Professor
Fall Caddis

Lot's of wildlife out and about mostly coming down to the river for water as it is sparse up in the hills.
This little guy or gal (bear cub) swam across the Columbia river and proceeded to lumber up towards the lodge and climbed a tree to get a better look inside our place, I guess? Photo taken from the deck at Black Bear Lodge….
Seems apropos!


THE KLICKITAT has been average to great depending on the day. Steelhead fishing is all relative….If we boil a fish on a skater I think it is a great day, especially if we get him to come back just subsurface – This happened just the other day.
Best skater recently – "Little Gurgler"
Best subsurface swing bugs lately – Hobo Spey
Best tip lately – 3.9 IPS sinking leader
The nymphing has been average to great. I hate to quote numbers, but the stats can go way up with the nymphing.
Best nymphs recently –
Hot headed stone
The Bead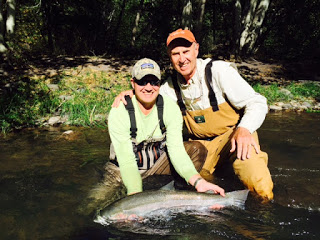 Jim Jr and Sr with a nice Klickitat Buck
Jack and Craig with a nice Klick buck
THE YAKIMA
has been fishing goooood. A variety of techniques have proven successful including streamers, nymphing and the dry fly; The dry fly being the lightest producer in numbers for us lately. The Salmon spawn is happening in the upper river and can produce a 'Little Alaska' style fishing for the next week or so.
Water temps are golden! Remember as the fall progresses, the smaller bugs start to prevail!
Yakima hook-up
Yakima double