GREAT fall fishing right now. Fish are not quite in winter water yet. Still spread out. Water clarity is ….
Upper Proper – 5ft
Upper Flatlands – 7 ft
Upper Canyon – 6 ft
Farmlands – 6 to 4 ft
Lower Canyon – 3 ft
Small stones, PT's, WD40's etc wer the ticket yesterday when nymphing. #16 Caddis are still around in the late AM, but are fading fast. Good dry fly fishing yesterday on Blue Wing Olives in the mid to late afternoon. Streamers swung, stripped and dead drifted can also be productive. The white fish egg drift was a no go this week.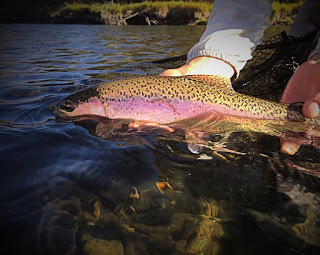 Beautiful bow from yesterday
Evening Light