YAKIMA
Key bugs… Crane flies, October Caddis and Fall Mayfly's (A few Baetis an Yellow Mayflies)
Where….The entire river is fishing  good
How…Dry flies and droppers, streamers
KLICKITAT
Sporadic fishing for both tactics.  Have found  fish on the swing and nymph.   Some good days and some tough ones.  Beautiful weather.
Both the Dry Line and Tips have produced. Picked up a fish on a dry line and the classic Skykomish Sunrise recently….Also picked up a fish on 10 feet of T-18 and a Klickinater. Two different ends of the spectrum.
The Fish below for Desiree was caught on 7.5 feet of T-14 and a Weighted Black/Purple/Blue Intruder.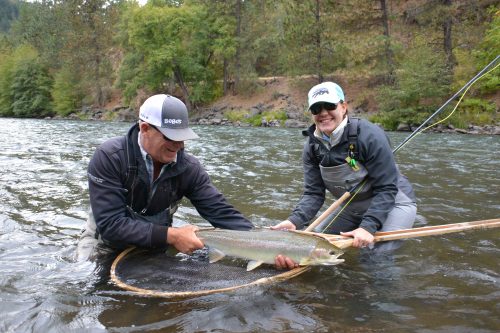 UPPER COLUMBIA
Typical fall fishing on the UC.  A little of this and a little of that.
Bugs include – October Caddis, October Caddis and October Caddis and some Terrestrials