YAKIMA RIVER is in great shape. Techniques have included the bathroom sink; Everything from fishing dry fly crane flies to nymphing egg patterns. Water temps are ranging between 54 and 60 degrees depending where you are and at what time on the system.
Predominant bugs are….
->Caddis #16 tan
->Fall Cahills #14 cream
->October Caddis #8-10
->Salmon Spawn
Guests on the water
KLICKITAT RIVER saw a recent insurgence of needed water to bring some fish in; The catching has improved overall. Fishing pressure is high seeing that the State/Feds have pretty much everything closed otherwise.
In addition to the Steelies, There are some Fall Chinook in the river. as seen below in the image and vid. Techniques have ranged from skaters to beads and everything in between. The upcoming week is traditionally a great Skating week.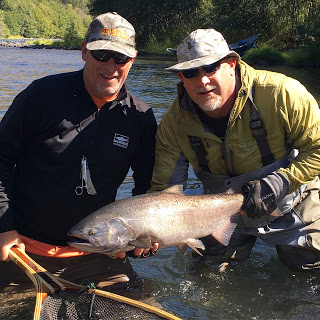 Jack and Jason with a Klick King
UPPER COLUMBIA RIVER
Good fishing but definitely fickle. Predominant bugs include…
October Caddis # 8-10
Midges #22
Fall Grey Caddis #12
Techniques include dry flies and nymphs.
Just hanging out
Cj and Frank with a sweet UC Bow