YAKIMA
CLARITY CHART
Upper Proper  5 Feet
Upper Flatlands 6 Feet
Upper Canyon 5 Feet
Farmlands 5-3 Feet
Lower Canyon 3 Feet
Continuing along with a great early season so far. Skwala and the Blue Wing Olive are the predominant bugs with the March Brown about to make its 2022 full on appearance.   A few showing already.
Recent techniques include…
Dry Dropper –  Skwala adult with a CDC Pheasant Tail or Prince
Dry Fly – Skwala renditions, Adams, Royal Parachute, Sparkle Duns
Bobber(indicator) nymphing -Stonefly nymphs, CDC PT's, Prince Nymphs
Wet Fly Swing – Partridge and PT and Blue dun soft hackles.
Search with the Dry Dropper
Cast dry flies or wet flies to risers
____________________________________
UPPER COLUMBIA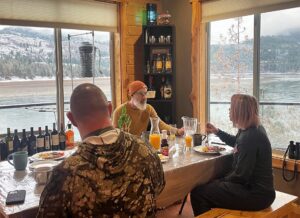 Fishing as usual on the Upper Columbia is a challenge.  BIG river, nice fish but not a big population.  Predominant tactic would be under tension. Great first group of the season.