YAKIMA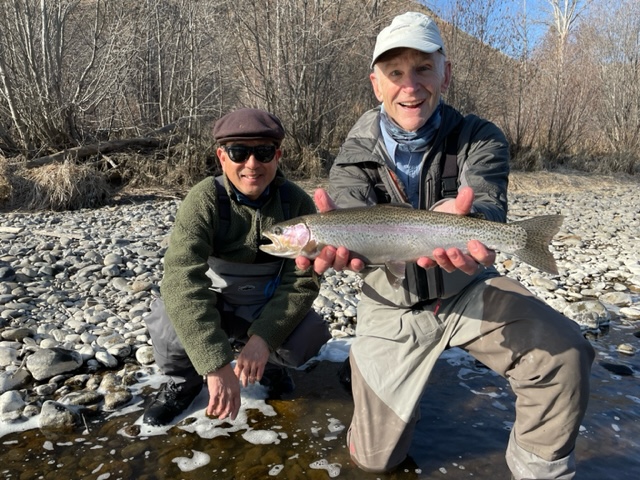 Goofy, Good, Spotty fishing. Beautiful and warm recently but a little colder change as of today.  Seeing Skwalas late in the day which is typical. Water bumped 300 cfs down in the Lower Canyon and a little turbid. Down to 2 1/2-3 ft of viz and green. Water temps are good 48+.
Clarity Chart
6 Feet    Upper Proper
7 Feet    Upper Flatlands
7-6  Feet   Upper Canyon
6-4 Feet    Farmlands
2.5 to 3 feet  Lower Canyon
Current Hatches
-> Skwala Stones #8-12
-> Winter Stones #14
-> Blue Wing Olives
-> Midges
-> Amyletus
Coming Soon … March Browns.
FLY CHOICEs
#8-12 San Juans
#8-12 Pats Stones
#8-12 Skwala stone nymph renditions
#14-18 Prince nymphs, Lightning Bugs, Caddis Larva
#18-20 Midge Pupae
#14-18 CDC Soft hackle PT's
#4-10 Streamers
Wolley Buggers, Sculpzillas, Sparkle Minnows
___________________
UPPER COLUMBIA
Marsha with a beautiful UC trout.
This river is almost the lowest we have ever seen it. As usual, finding fish on the UC can be a challenge and fun in the same breath. Swing and nymph tactics are the approach.
Swinging – Various tips based on depth, flow and mood of the fish. Everything from a light tip to 300 grains and 24 feet.
Hatches – Skwalas and Blue Wings
Once in awhile you get surprised when fishing…
___________________
Olympic Peninsula
Pretty good season on the OP this year… Both for fish and  fun.   We are done ourselves, but there still is a week left out there ….