YAKIMA
Fishing has been worthy when the river is in shape.  Currently the only viable water is above the Teanaway confluence.  Northwest river predictions shows the river going out over the net couple days.
Hatches include…  Skwala, Blue Wing Olives, March Browns
UPPER COLUMBIA
The river is at an incredibly low volume.    Most the fishing lately has been under tension…Either a swung fly or retrieved.   Recently been a bit slow.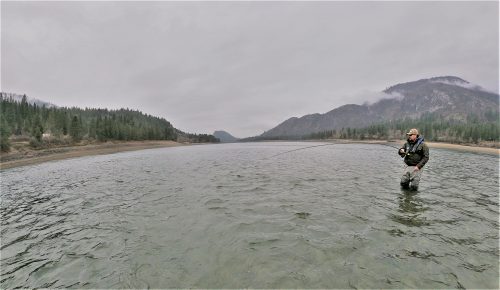 OLYMPIC PENINSULA
The Olympic Peninsula just received an insurgence of much needed precipitation.  Some amazing fish have been hooked lately.  Tough to land some fo the giants.
Both the swing and nymph have proved worthy.
Line choices lately have varied from a Fall Favorite to a double density Skagit and T-14….Quite the range.  Fly choices from bright to dark and medium to LARGE in size.  I know that is not too specific, but it is the truth and sometimes it is just a matter of how it feels'….