OLYMPIC PENINSULA
Pretty reasonable fishing on the Olympic Peninsula.  No complaints. This fish was caught on a 8136 Sage Brownie, Loop Classic reel, 10 ft of T-11 and the fly was unweighted.  This fish came UP for the fly.  No doubt about it.
(Facebook Needed for the video)
Click image below for video
YAKIMA RIVER
We just had to do it…. Fish masks at the shop.  Everybondy get's one on our Yakima fishing trips!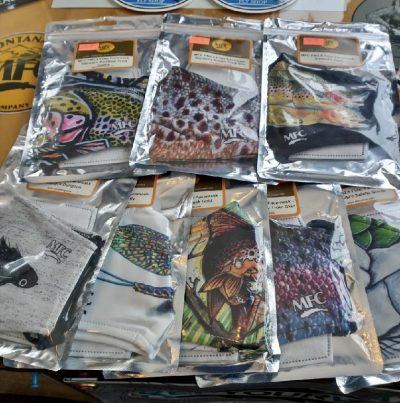 The river is in GREAT shape and the fishing is fantastic.  This sounds like a broken record (which it is) .  This next 2 months should be awesome.
Food-
Skwala nymphs
Blue Wing nymphs
Midge larvae and adults
Worms
Caddis Larvae
Bait Fish
Patterns-
#8-12 San Juans
#8-12 Skwala Stone patterns
#8-12 Pat's
#14-16 Prince nymphs
#18-20 Brassies
#4-8 Various Streamers
UPPER COLUMBIA
The river is significantly higher than normal for this time of year. Lake levels are starting to drop. Reasonable midges on the 'right' day.  Right equals stable.
Swing tactics with various based on depth and flow. Patterns for swinging range from Sculpzillas to Buggers.