YAKIMA
The fishing has been very consistent  throughout the river …. top to bottom.  Of course everyday is different.
Bugs include:
Skwala
Blue Wing Olives
Midges
Best dry fly action has definitely been from 1-5 pm which is typical for this time of year. Blue Wings have been reasonable.  Blue wings are typically found in the slower Boulder strewn runs as they are swimmers.
The nymphing has definitely been sporadic in the earlier part of the day
Hot patterns include
#8-12 Unit Skwala
#14-18 Purple Haze, Quigley BWO
#12-14 March Brown Trigger Nymph
#16-18 CDC Pheasant tails, Flashback PT's, Lightning bugs
#12-16 CDC Princes, Halo Prince
#16-18 Brassies
#6-10 Sparkle minnows, Sculpzillas, Bow River Buggers,
UPPER COLUMBIA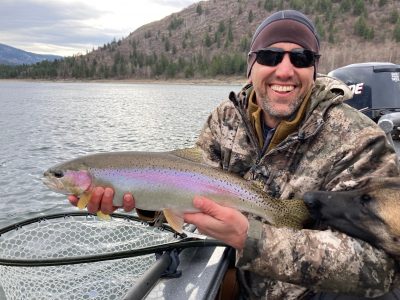 In good shape…..Nice fish to be had.  Mostly swing tactics with a bit of nymphing mixed in!
We have some prime time dates available.