YAKIMA
The Yakima just keeps on keeping on.
Skwala stoneflies are still present and will be for awhile but their overall importance will decrease on a daily basis.  
The March Brown will however take first place and this hatch can be like clock work.. Taking into consideration that all conditions are the same, the Hatch will typically transpire exactly as the day before.
Often times post and pre  hatch  at this time of year the fishing can be rather slow as this is time frame where the spawn cycle really kicks onto gear
Water temps have been hovering in the 45 -49 degree depending on where you are, time of day etc. However, this last 48 hour weather pattern has dropped the temp down to 40!
CLARITY 
Upper Proper 5 feet
Upper Flatlands 6 feet
Upper Canyon 5 feet
Farmlands 5-3 feet
Lower Canyon 2.5 -3 feet
HATCHES
Skwala
March Browns
Blue Wing Olives
Ameleytus
Midges

SUGGESTED FLY PATTERNS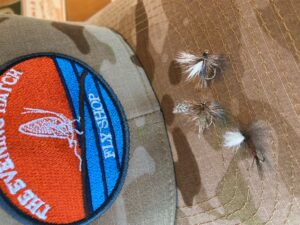 Top Left  – TJ Hooker, Pats Stone, San Juans
Top Right –  Pheasant Tails and Worms
Bottom Left – Para Adams, Std Quill March Brown, Split Wing Adams
Bottm Right – Skwala Adults
COMING SOON
American grannom Caddis
Salmon flies
Salmon smolt
UPPER COLUMBIA
Overall condition of the river is great. Clarity is ranging from 8 to 10′ feet. Bugs include Skwala, Midges & Blue Wings.
Tactics have included nymphing, retrieving and swinging.
Water temperatures are cooler than average. 40° as of lately. Typically we would be at 42.